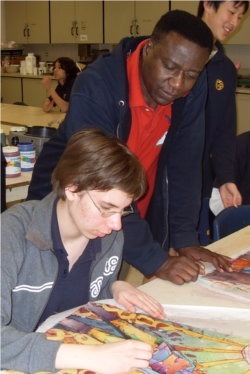 In 1983, David Kibuuka immigrated to Canada to finish his studies at the Ontario College of Art and Design.
Over the past 20 years, David has owned and operated art galleries in Toronto and Los Angeles. His loyal clientele consists of collectors from the business, sports and entertainment communities. As well, David's humanitarian efforts have supported a world wide fundraising effort by Unicef from the years of 1990-1993. David's images decorated four greeting art cards which were sold world wide to benefit Unicef.
In 2005, collaboration between World Vision Canada, Artistic Canada and David was formed to produce posters using David's images for the purpose of raising money to benefit "Hope initiative" which provides prevention, care and advocacy programs for children and those affected by the HIV/AIDS pandemic in Africa and in 2007 David founded Lumu Kabasindi Foundation to directly fundraise for orphan children in Uganda (East Africa).
His virtual gallery at www.zimbecollectioninteriors.com gives David the time to follow his passion which is teaching Modern Batik Art Technique to empower the next generation of artistic youth. His workshops have been held in the USA, Canada, Africa, Europe, and in several Caribbean countries.
Modern Batik by David Kibuuka - E-Book